It was big news when the FTC cracked down on an Amazon seller who paid for fake reviews for his products. The practice is quite common, particularly when Amazon allows unverified reviews. These small fish sellers pale in comparison to what Amazon is doing with product reviews. When a consumer purchases a product on Amazon, in their orders interface they are presented with options that include returning an item, leaving product reviews, etc. As you can see by the screenshot below, Amazon gives consumers the option to leave a product review when they buy a FBA (Fulfilled by Amazon/Prime) item and omits the product review option for FBM (Fulfilled by Merchant/Third Party Seller) items.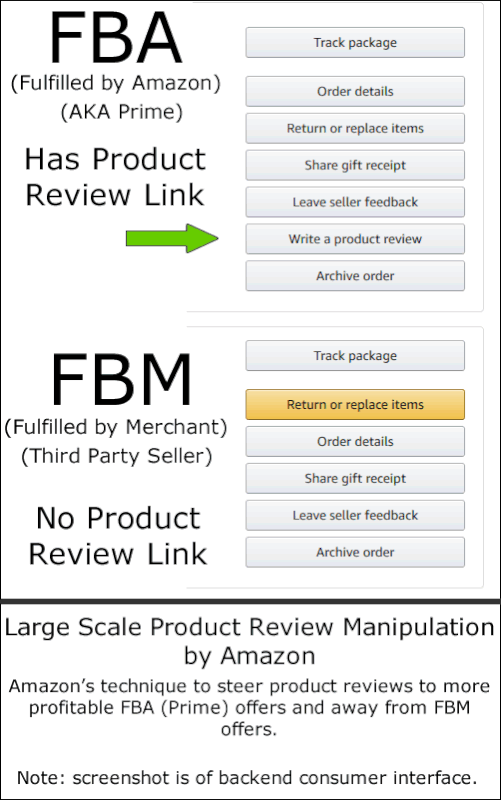 As many sellers on Amazon already know, Amazon steers product reviews to FBA (Prime) offers and away from FBM offers. Why? FBA sellers are billed fulfillment fees on each shipment, which for a 10 ounce basic item is currently $2.41 on top of the 15% commission Amazon takes. Therefore, it is more profitable when Amazon sells a FBA item they ship from one of their warehouses -vs- a third party seller that packs/ships their own items.
The weight of product reviews in a consumer's purchasing decision has grown more important over the years. To a large degree, consumers trust Amazon which is largely due to their consumer friendly return/refund policies. However, Amazon has violated that trust in how they promote product reviews.
As a domestic manufacturer, I see the impact of Amazon's product review steering on a daily basis. Despite producing higher quality and safer products, we rarely get product reviews while our Chinese competitors just rake them in. Since so many sellers on Amazon are from China (estimated at 40%+ see [
webmasterworld.com
...] ), I see this as a domestic -vs- import problem as well.
As a consumer, a product with more product reviews looks more appealing on many fronts. Call it the bandwagon effect (everyone is on board so I should be too) or whatever, products with more reviews simply appear more sought out by consumers and appealing. However, as a consumer, I feel Amazon has duped me and millions of other customers by creating a product review system that elevates products based not on their merits but on what is more profitable to Amazon.
So let me ask this... Knowing that Amazon steers product reviews to more profitable FBA items and away from FBM items, do you think this violates any USA laws? If not, what makes deceiving consumers in this way acceptable to both the FTC and DOJ?